Celebrating 35 years of satisfying your commercial real estate needs!
Anton, Sowerby & Associates practices professional real estate brokerage. Combining sound marketing, extensive market research and personal knowledge gleaned by vast experience, we expose available properties to the greatest number of qualified decision makers. We also offer market information which allows our clients to make the best possible decisions regarding their real estate and its economic impact.
Anton, Sowerby & Associates exists to serve the needs of owners and users of commercial, industrial, investment and office real estate in southeast Michigan. We are particularly proud of our impact in Macomb County. We believe that our extensive experience in the marketing, development and financing of commercial and industrial real estate, along with our contact with builders, developers, financial institutions and users, makes us uniquely qualified to represent your interests. We utilize various web services, direct mail,  major newspapers and trade journals to expose our listings effectively to all segments of the market.
Anton, Sowerby & Associates: A licensed Michigan real estate brokerage.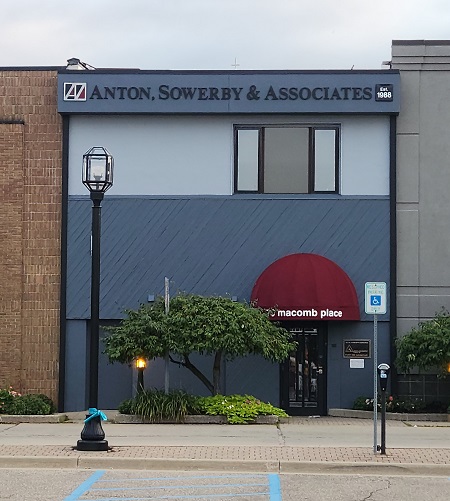 Our Mission
Life is a mission. Successfully marketing Real Estate is the business side of that mission. Good service in conjunction with determined effort will always be provided. Responding to the needs of our clients is paramount. What a client should hear will always take precedent. Integrity will not be compromised to achieve the desired outcome. We will not undervalue to expedite a transaction without being instructed to do so, nor overvalue to appease and list. Successfully completing transactions is our goal. Client relationships are the engine, honesty and hard work the fuel that runs it. Let's make a deal.